Do you want to create and sell your designs? Think you could make unique merch? Would you like us to make your designs a reality?
Then you're in the right place! Becoming a designer is fairly straight forward with us! All you have to do is get in contact with us via Telegram, Twitter, Discord, or email and we'll talk! Although here's a few important things to consider!
If being a Designer or simply helping on events interests you, then you're probably already suited to join! Don't stress simply contact us!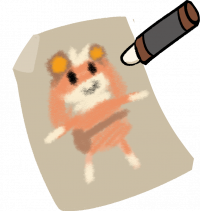 Things to Consider When Applying!
Ready to apply? Good!
All you need to do is to fill out this form linked below which will ask you a few questions!
Below is a rudimentary list of products you can design! For the full document listing all of the products with more info you must become a designer!
Mousepads - Posters - Towels - Underwear - Pillows - Stickers - Flip Flops - Mugs - Color Changing Mugs - Socks - Backpacks - Tote Bags - Drawstring Bags - Bean Bag Chairs - Beach Bag - Embroidered Hats - Beanies - T-Shirts - Tanktops - Long Sleeves Shirts - Hoodies - Leggings - Shorts - Joggers - Dresses - Skirts - Decals - Puzzles -Sticky Note Pads - NotePads - Water Bottles - Coasters and more!