Join the Artemptoon Art Guild
Are you an artist that likes to make quick sketches and be paid for them? Would you like to create art packs and sell them? Do you like creating product concepts but wish you could make them a reality? Have an artistic project you'd love help with? 
Then the Artemptoon Art guild might be for you!
Being an Artemptoon guild member is free and gives a few perks! It's also non-committal so you don't have quotas to fill! You get to see all commission opportunities and if so desired take a slot and get paid upon completion! Create your own products and help each other in a safe environment.
What are the Perks for joining Artemptoon?
If anything on this page sounds interesting to you but you're a bit intimidated by all of this: Don't stress! You're probably exactly the type of people we're looking for! Simply contact us if you have any worries!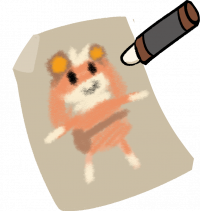 Ready to apply? Great! 😀
All you need to do is to fill out this form linked below which will ask you a few questions! (Don't worry about some of them; like we said it's okay if you can't help every month; we simply like to know)
You can speed up your application process or simply ask any question using Discord, Twitter, or Telegram!
Prefered Telegram: t.me/Arcaxon
Discord: Go to TSG!'s Discord Server and contact @Arcaxon#0059
Below is a rudimentary list of products you can design! For the full document listing all of the products with more info you must become a designer!
Mousepads - Posters - Towels - Underwear - Pillows - Stickers - Flip Flops - Mugs - Color Changing Mugs - Socks - Backpacks - Tote Bags - Drawstring Bags - Bean Bag Chairs - Beach Bag - Embroidered Hats - Beanies - T-Shirts - Tanktops - Long Sleeves Shirts - Hoodies - Leggings - Shorts - Joggers - Dresses - Skirts - Decals - Puzzles -Sticky Note Pads - NotePads - Water Bottles - Coasters and more!
Things to Consider When Applying!
Do you want to create and sell your designs? Think you could make unique merch? Would you like us to make your designs a reality?
Then you're in the right place! Becoming a designer is fairly straight forward with us! All you have to do is get in contact with us via Telegram, Twitter, Discord, or email and we'll talk! Although here's a few important things to consider!
Ready to apply? Good!
All you need to do is to fill out this form linked below which will ask you a few questions!